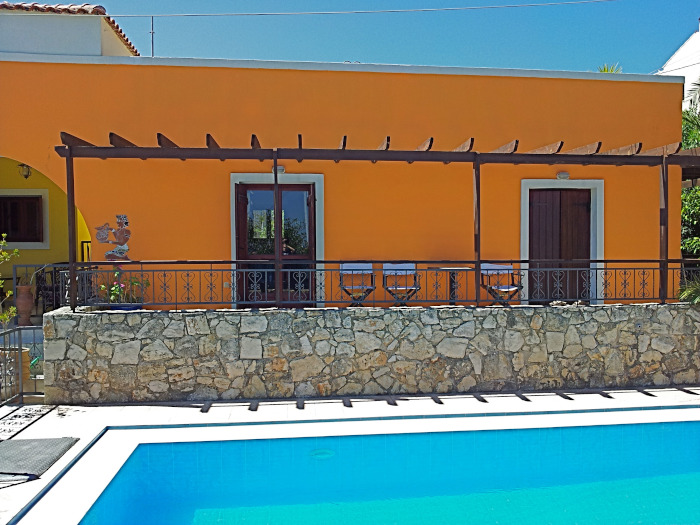 Crete – Almyrida (Chania)
Walk to the beach Villa Kostas 2 bedrooms / 6 beds
Attractive Well Equipped Single Storey Villa with Pool,
Roof Terrace, BBQ, Super Location 5 Mins Easy Stroll
to the Blue Flag Beach and all Facilities at Almyrida Bay
The swimming pool, balconies and exterior steps and stairs are fitted with fences and gates.
This together with a single interior floor level makes them suitable for many sorts of group, including families with young children;
regrettably, people with severe mobility problems would not be comfortable here.
Almyrida is a small, pretty resort but has everything you will need; a good range of tavernas, cafes and bars; well stocked food shops; a clean Blue Flag beach and safe swimming or paddling in the sea (very gently sloping sandy bottom). If you prefer not to hire a car, the resort has a taxi rank and reliable bus service. You can also book excursions to any of the many places of interest or activity Crete affords.
Villa Kostas has a large living room attractively furnished with much scrubbed pine and radio, TV and DVD player; 1 double bedroom and 1 twin plus double bed settee in the living room; a bathroom with shower, basin and WC. The open-plan kitchen has full sized gas and microwave oven and hob, fridge/freezer, washing machine – plus plenty of cupboards and worktop.
Full air-conditioning and also suitable heating are available. There is no charge for babies using a cot and we supply the cot free. For toddlers we will supply a high chair at no charge.
Young children are able to go freely within the house and onto all the balconies and the area outside the main door and are protected from falling or going onto the poolside or onto any stairs by suitable fencing and gates. A free wireless connection is available.
Outside
There are mature flower beds around both villas and potted flowers and plants on terraces and balconies.
Each villa has a large private roof terrace furnished with tables, easy chairs, sun beds, umbrellas and BBQ.
Also balconies to the front and sides of each house are well furnished with easy chairs and tables.
The pool is used by only the occupants of the house and the poolside has sun beds and umbrellas.
Coast and beach
The beach, town and resort facilities are a 5 minute easy stroll. Further good beaches can be visited at Kalyves (4 km), Georgioupoli (25 minutes drive) and in and beyond Chania.
There are numerous rocky coves or bays where you will be enchanted to swim or snorkel.
Any destination in Chania region such as Balos, Elafonissi, Samaria Gorges and many others are reachable within a day trip.
Travel
Chania Airport is about 35 minutes drive to/from your villa;
Souda port about 20 minutes drive; Heraklion is about 2 hours drive.
A hire car is not essential in this location.
There are plenty of taxis at both airports and bus services going to/from Almyrida and both airports, ports and all the major cities of Crete.
How to reach us
Distances
In town you will find all you need for your stay.
The nearest town, Kalyves (full range of shops, banks, ATMs, etc.) is 5 minutes drive or 1/2 an hour beautiful walk. The main town of the area, Vamos, is 15 minutes drive.
Chania, one of the loveliest cities of Greece (old town, Venician port, night life) is 35 minutes drive. Archaeological sites are many and long sand beaches with waterparks in both directions along the coast.
Further details
Chania, the regional capital, is worth spending a day or two visiting.
There are shops galore, a permanent indoor market and two highly colourful street markets. It has a characterful old town and a lovely Venician harbour area.
Walkers will want to test themselves in the spectacular Samaria Gorge. The easier but no less spectacular Imbros Gorge may be a more sensible choice. Both require a 2 to 3 hour trip up into the White Mountains and your exit from both brings you out on the arid but dramatic south coast.
There are many more activities to be found on Crete. Whatever your holiday fancies may be, you can probably indulge them somewhere on this very large island.