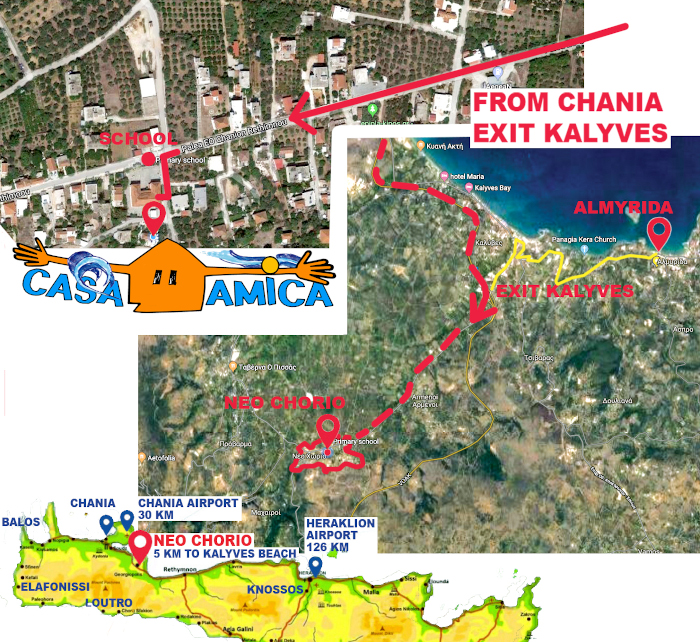 Crete – Neo Chorio (Chania)
Sea and mountains Casa Amica 2 bedrooms / 4 beds
Country Villa placed in a village between sea and mountains in a convenient location near Kalyves with beaches and all facilities, allows guests to visit all Western Cretan most Attractive Destinations within a day trip.
The ground floor is for the guests and offers two easily accessible rooms with bathrooms.
The courtyard and the garden terrace surround the rooms on the ground floor.
This together with the gently sloping access to the first floor courtyard, where breakfast is served makes them suitable for many sorts of parties, including families with young children and also people with scarce mobility or different problems who will enjoy Enzo's long experience in the field of healthcare.
Neo Chorio is a small, pretty Greek village with everything you will need; a good range of tavernas, cafes and bars; well stocked food shops; a pharmacy and other shops. Hiring a car will allow you to visit astonishing places and any of the many places of interest or activity that the Western part of Crete affords; taxi and bus services are available in the area anyway.
Casa Amica is run by Enzo and Cristina, an Italian couple that will welcome you and lend you a hand getting in touch with the many chances that the Island offers. A free wireless connection is available all around the house.
The room is specially conceived as easily accessible, furnished with much scrubbed pine has TV, fridge, coffee machine, microwave oven and worktop; the beds can be 2 twins or 1 double; the bathroom with shower, basin and WC, shower seat and suitable handles.
Full air-conditioning and also suitable heating are available.
Guests are able to go freely within the house and onto the terraces.
There are mature flower beds and plants all around as well as tables, chairs, sun beds, umbrellas and BBQ.
Coast and beach
The town and facilities are a 5 minute easy stroll. The closest beaches can be visited at Kalyves (5 km), Almyrida (9 km), Georgioupoli (25 minutes drive) and in and beyond Chania.
There are numerous rocky coves or bays where you will be enchanted to swim or snorkel.
Any destination in Chania region such as Balos, Elafonissi, Samaria Gorges and many others are reachable within a day trip.
Travel
Chania Airport is about 35 minutes drive to/from Casa Amica;
Souda port about 20 minutes drive; Heraklion is about 2 hours drive.
A hire car is rather advisable in this location to appreciate the best of Western Crete.
There are plenty of taxis at both airports and bus services going to/from Kalyves and both airports, ports and all the major cities of Crete.
Distances
In town you will find all you need for your stay.
The nearest town, Kalyves (full range of shops, banks, ATMs, etc.) is 5 minutes drive, 10 minutes by bike or 1 hour walk. The main town of the area, Vamos, is 15 minutes drive.
Chania, one of the loveliest cities of Greece (old town, Venician port, night life) is 35 minutes drive. Archaeological sites are many and long sand beaches with waterparks in both directions along the coast.
Further details
Chania, the regional capital, is worth spending a day or two visiting.
There are shops galore, a permanent indoor market and two highly colourful street markets. It has a characterful old town and a lovely Venician harbour area.
Walkers will want to test themselves in the spectacular Samaria Gorge. The easier but no less spectacular Imbros Gorge may be a more sensible choice. Both require a 2 to 3 hour trip up into the White Mountains and your exit from both brings you out on the arid but dramatic south coast.
There are many more activities to be found on Crete. Whatever your holiday fancies may be, you can probably indulge them somewhere on this very large island.